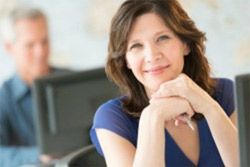 Facelifts are one of the most popular facial plastic surgeries in the United States. There is more than one kind of facelift and each is designed to help a different part of your face. To help you understand these different facelifts, here is some information about the three basic types including what areas they fix and how they're performed.
Forehead/Brow Lift
Target area: It goes without saying that this lift fixes the top portion of your face, including your forehead and eyebrows. Constant worry or stress can cause you to get prominent wrinkles on your forehead and in between your eyes, which gives you a serious and sometimes even angry appearance. Over time, gravity also causes your skin to pull downward, which makes you look tired and run down.
How the lift helps: A forehead/brow lift pulls the skin upward and tightens it across the forehead so your face looks younger, brighter, and more energized. This is usually accomplished with the endoscopic technique. The surgeon makes small incisions just at your hairline then inserts a small tube with a camera on the end to see what your forehead looks like under your skin. Once the surgeon can see where the problem spots are, he or she can make the necessary fixes before lifting and tightening the skin. Another way to perform a brow lift is to make a long incision at the hairline from one side of the head to the other, then actually pull the skin back to gain direct access to the forehead muscles. After all the necessary corrections are made and the brow is lifted, the incisions are closed with sutures.
Most surgeons opt for the endoscopic technique because it's minimally invasive, which means it carries less risk to the patient and has a shorter recovery time.
Mid-Face Lift
Target area: Your mid-face area includes the area under your eyes, your cheeks, and the area between your nose and mouth. Like your forehead, your mid-face struggles against gravity and starts to look a little droopy. Your cheeks also lose volume and the bags under your eyes become more pronounced.
How the lift helps: Unlike the brow lift, which focuses more on tightening and smoothing the face, the mid-face lift focuses on raising the actual soft tissue. Incisions are made around your ears and hairline, then an endoscope and a couple of other tools are used to lift the cheeks and skin around in the mid-face lift.
The effects of this particular lift can also be accomplished through other surgical and nonsurgical methods, including cheek implants, lip advancement, or dermal fillers.
Standard Facelift
Target area: A standard facelift typically focuses on the lower portion of your face, which includes the area around your mouth, jaw, and neck. This is where gravity is most acutely felt for most patients, so they typically have skin that hangs loose on their jaw and neck, creating a lack of contouring and definition. Your mouth also begins to acquire deeper set wrinkles.
How the lift helps: Surgeons can lift and tighten the skin around your neck and jaw to make your whole face look more youthful. They start by making incisions along your hairline and behind your ear. Next, they use liposuction and other tools to remove any excess fat or soft tissue and repair or reposition any muscles that need fixing. The surgeon smoothes and tightens the skin by lifting the remaining soft tissue and suturing it at the incision site.
How Do I Choose the Best Lift for My Face?
Your surgeon will be able to help you make that determination during your patient consultation. You should have some idea about what you want fixed about your face, but your surgeon will figure out the best way to meet your goals by assessing your facial anatomy and health history. Sometimes this is best achieved with only one procedure; sometimes it takes several complementary ones. Facelifts are commonly performed in conjunction with other lift procedures, like a neck lift or an eye lift. By having an open and honest discussion with your surgeon, you'll have the best chance of getting the best possible results.
Dr. Nassif is a leading expert in facelift technology and has even developed his own advanced techniques for the surgery. His Beverly Hills Facelift and Anti-Gravity Facelift are well-known for their amazing results and are the result of many years and thousands of facelift procedures on patients just like you. To schedule an appointment with Dr. Nassif, call (310) 275-2467 or send an email through our contact page.
---
Back to Blog
Accessibility: If you are vision-impaired or have some other impairment covered by the Americans with Disabilities Act or a similar law, and you wish to discuss potential accommodations related to using this website, please contact our Accessibility Manager at (310) 275-2467.